About Us
Roman Blind Wizard has been developed over a period of five years in the Professional Workrooms of Mary Grice Soft Furnishings.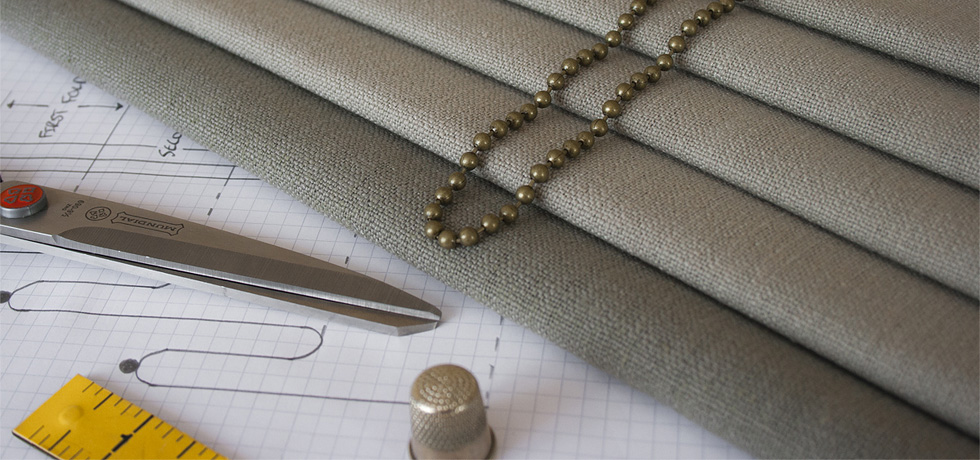 Who Are We?
At Mary Grice Soft Furnishings, we have been creating beautiful bespoke window treatments for discerning clients for many years. We have a passion for fabrics and accessories which is matched by our rigorous attention to detail and genuine understanding of our client's needs and the Soft Furnishing market place.
We are City and Guilds trained, and with more than 30 years experience in the craft, we work to exceptionally high standards to create the most exquisite made to measure curtains, blinds, cushions and accessories for beautiful homes.
What is Roman Blind Wizard?
Roman Blind Wizard was created to overcome the mathematical minefield which faces every conscientious maker of bespoke Roman blinds:
How many folds should my Roman blind have?
How do I calculate the fold size for my Roman blind?
Where should I position the rods in my Roman blind?
How do I plan for cascading folds in a Roman blind?
How much space will the stacked-up Roman blind occupy?
How do I allow for different Roman blind headrails?
How do I work out how much this blind will cost to make?
Even in our own workroom, with years of experience, each new Roman blind required a new, time consuming calculation, a double check, often a trial sample with the fabric, and sometimes recalculation from scratch if we weren't happy with the first results. Obviously, we're pretty quick with a standard fold, fixed headrail, no frills Roman blind calculation, but with all the new headrail options now available, infinite combinations of fold depth and cascade increments, and often bottom trims and borders which need to be displayed, we were feeling more like mathematicians than seamstresses!
So we developed Roman Blind Wizard to address all the possible combinations of design and functional requirements of any Roman blind. We used all our experience of bespoke Roman blind making to create a calculator which would do all of the maths without taking away any of the design decisions.

What does Roman Blind Wizard do?
Roman Blind Wizard quickly and accurately calculates the rod pocket positions for any Roman blind, giving you the precise measurements to create perfect cascading or standard folds. It also produces a precise bill of materials and accurate costings for every blind.
Using just two key measurements (finished width and drop), Roman Blind Wizard calculates and suggests the ideal parameters for your blind, including number of fold sections, fold depth, cord drops and stacked-up depth. You specify the final details such as cascade increment and headrail allowance, and Roman Blind Wizard produces a detailed Workroom Instruction sheet detailing fabric cutting sizes, rod pocket positions, cord drop positions and hardware requirements.
What are the Benefits?
In our own workroom, we now trust Roman Blind Wizard unreservedly to create the Workroom Instructions and Costings for all our Roman Blinds. This confidence is based on the wholehearted knowledge that our Roman blinds are absolutely beautiful, truly bespoke, and quite simply "PERFECT" every time.
In the bespoke Soft Furnishing arena, this guarantee of perfection is of paramount importance in order to uphold our reputation and ensure complete customer satisfaction. But Roman Blind Wizard also delivers substantial cost savings every time we design and make a Roman Blind. And unlike many cost-saving techniques (which actually just cut corners), Roman Blind Wizard actually IMPROVES our accuracy and our ability to design truly bespoke blinds.
How can Roman Blind Wizard save you Money?
Traditionally, to calculate the rod pocket spacings on a Roman blind, you might spend 10 minutes on the initial calculation, perhaps 10 minutes on a trial fabric sample, and often a further 10 minutes re-calculating to achieve the required stacked-up depth or cascade effect. You might also spend around 15 minutes working out the fabric, hardware and labour costs to prepare a quotation. That's a total of 45 minutes of workroom time (time that you'd much rather spend sewing!).
Let's say, to keep figures simple, you cost your workroom operations at £20 per hour. So each Roman blind costs you about £15 in mathematical deliberations. With Roman Blind Wizard, it will take you less than five minutes to specify the details and print out the Workroom Instructions. (A workroom cost of £1.67).
This equates to a workroom cost saving of £13.33 per blind, so even if you pay the single-use price of £2 for a Roman Blind Wizard calculation, you will make an overall cost saving of £11.33 per blind. If you make one blind a week that's a saving of £589 every year! And the savings get even better when you buy more credits, or if your workroom costs are set higher than £20per hour. And of course, Roman Blind Wizard will free-up your time to do what you do best – make beautiful, accurate, truly bespoke, perfect Roman blinds.
Visit our website at www.marygrice.co.uk
Visit our Terms and Conditions of Use
Visit our Privacy Policy